'You Just Do It': Azalea Trace Resident, 83, Excels in Half Marathon
At 83 years old, George Goggans was eager to check an item off of his bucket list. That's when he decided to run a half marathon.
"I don't really like to run but anytime I ran, I was always glad that I did. I've done some 5Ks but never this magnitude," he joked about the 13.1 mile challenge, "I wanted to see if I could do it."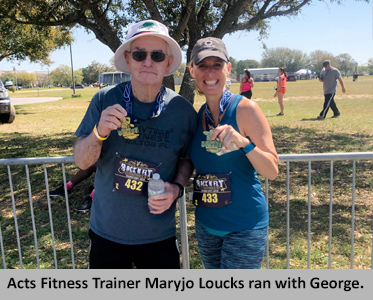 The Azalea Trace resident doesn't think of himself as a runner, but Azalea Trace fitness trainer Maryjo Loucks encouraged him to try Pensacola's Rock 'n Fly Half Marathon in March. She helped him follow a training plan and even ran the entire race by his side. "Maryjo insisted on running with me to make sure I stayed hydrated. She's made such a difference [with fitness] in our community; so enthusiastic and caring," George said.
Maryjo monitored his heart rate and even took photos at each mile marker to reassure George's wife, Emma Whitfield, that he was okay.
"I had brought my chair and 'Words with Friends,' but I couldn't do it. I stood beside that road the entire time just waiting," Emma said. "If it hadn't been for Maryjo, I don't know what I would have done. She's not only a mentor, she was a great friend to keep me posted throughout the race route."
George crossed the finish line in just under 3 hours and 21 minutes and placed first in his age group. He was also the most senior participant by a decade.
"The last 2-3 miles I had to slow down because of back pain. I only slept a few hours on race day but you get out there and the adrenaline kicks in,"George said. "You just do it."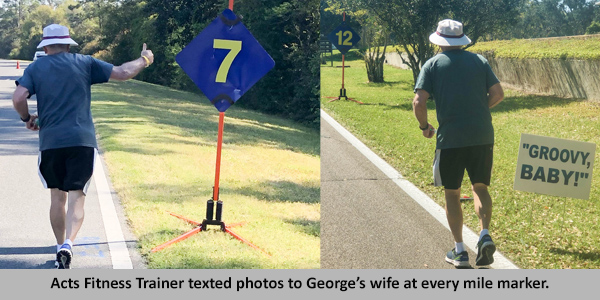 "It was one of the proudest moments of our marriage," Emma said. "He's in such great shape. He actually ran across the finish line. He was not walking." 
Feeling his fittest at 83, George has come a long way. He didn't start exercising until he was 50, after being a heavy smoker most of his life.
"Exercise lowers your heart rate. When I quit smoking, my resting heart rate was around 72-74. Now it's about 43. The nurses are shocked when they take my blood pressure," George said.
George and Emma enjoy taking fitness classes together at Azalea Trace since moving into their apartment in 2017. They prefer yoga and resistance band workouts to build strength, flexibility and improve balance.
"It's even helped my golf game," George said.
"We always exercise, especially in the mornings. Even on weekends, we hardly ever take a day off," Emma added. "You have to stay moving to stay healthy."
What's next for George? He may start swimming more. This summer, he's going to Colorado for some hiking, mountain climbing and bow hunting. After a half marathon, nothing can stop him.