Tryon Estates' Globetrotting Couple Serves a Higher Calling
Allen and Beverly Monroe will celebrate their 62nd wedding anniversary this June. They have spent their retirement constantly traveling, though most of their trips have been taken apart.
Allen has taken 51 mission trips since retiring, while Beverly has set up 35 libraries on every continent. Their faith and passion to help others has made their marriage stronger and the world a better place.
Rather than traveling to luxury resorts, cruises or on dream vacations, the Tryon Estates couple's secret to happiness and a fulfilling marriage has been found in their journeys to third world countries.
"Many seniors sit back and say, 'I've earned my rest' and that's fine, but this is rewarding for us," said Allen about their on-the-go lifestyle. "The reward in seeing the smiling faces and appreciation, especially in China, it's unbelievable."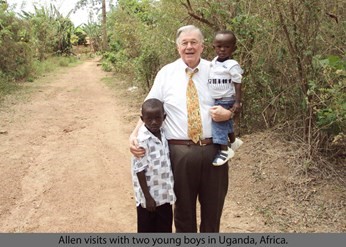 Allen, a retired university professor, teaches Christian pastors and provides resources to impoverished seminaries with Equipping Leaders International. Beverly, also a retired educator who taught at Cedarville University in Ohio, sets up libraries in developing countries. Both have doctorate degrees and are using their expertise to fulfill what Beverly calls "an obvious need" to give back.
"I have a lot of energy," Beverly said. "If I'm not busy, I'd be climbing the wall."
Beverly delayed a trip to Jamaica after receiving a desperate phone call from a college in Saint Lucia begging for help. Allen, meanwhile, leaves for another trip to Haiti in a few days.
"These pastors can't afford books. We can't even charge them for meals. We raise the funds for them," he said. "Next week, I'll take around 50 books in another suitcase to give them. They'll be thrilled."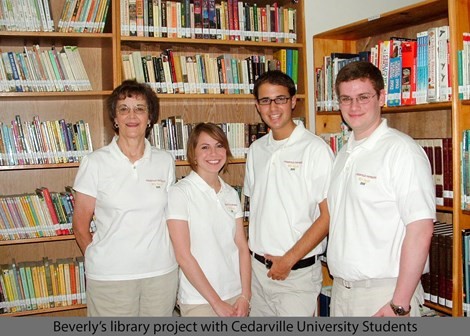 While some might assume that traveling separately would be a struggle for a married couple in their golden years, the Monroes emphasize a spirit of selfless compromise.
"It's communication and allowing space. When I get an invitation, I run it by Allen and he gives me his blessing," Beverly said. "When I come home, it's a sweeter relationship when we've been absent sometimes."
"We find a way to keep in touch during trips, sometimes through email two to three times a day," Allen added, while crediting their faith for strengthening their bond. "We are both committed to the same Lord and service. Our families have been very supportive for us, too."
When life gets busy, finding time to make their marriage a priority is also a must.
"In 2006, for our 50th anniversary, I had been asked to set up a library in Cairo and Allen was planning to minister in Uganda," Beverly explained. "Between the completion of my project and the beginning of his, there was a ten-day gap, so we celebrated our anniversary with a cruise down the Nile."
The Monroes are blessed with two daughters, three grandchildren and three great-grandchildren. One daughter is a teacher in Ohio and the other has the same passion for traveling, driving cross country for a trucking company.
For Beverly and Allen, their giving legacy will continue as long as they're healthy to travel and help others in need. Their purpose-driven life is what a happy marriage is all about.