St. Andrews Resident Awarded LeadingAge Florida's 2019 Volunteer of the Year
Angela Sullivan, a resident of St. Andrews Estates was recently honored as LeadingAge Florida's 2019 Resident/Volunteer of the Year. It's a prestigious award as she was chosen among candidates from more than 400 senior living communities across Florida.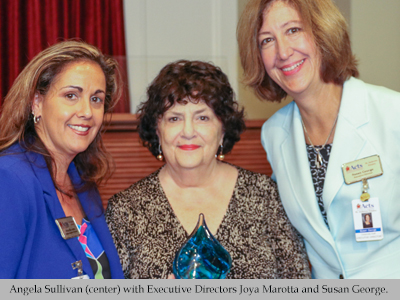 A retired nurse, Angela has a compassionate heart driven to serve. She created a group of "Visiting Angels," a volunteer nurses visiting program to bring comfort and companionship to residents living in the community's Willowbrooke Court which provides skilled nursing and memory care."Angela started that group one year ago. In May, we had 400 visits," said Aimee Hilton, the administrator. "She goes out of her way to make everyone feel comfortable, safe and secure."
"She has accomplished so much by making sure there are visitors here for all our residents," said Sherrie Ponevac, the Recreation Coordinator, "She makes a lot of our residents happy doing this good deed."
Since Angela herself had a short stay at Willowbrooke Court before she was a resident, the community holds a special place in her heart. "She enjoyed the stay so much, she decided to move into an apartment at St. Andrews Estates, but she kept visiting us at Willowbrooke Court," said Hilton.
"As a former nurse having worked in the healthcare industry for over 30 years, her greatest asset is her compassion," Hilton added.
Congrats, Angela! Thank you for all you do for fellow residents and community.