Magnolia Trace Resident Shows Treasured Civil War Collection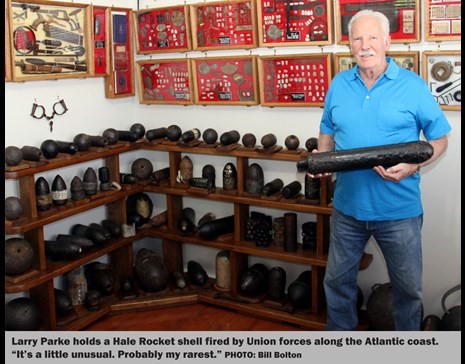 "My wife has a sign on the door that says, 'War Room'."
Larry Parke and his wife Connie moved into Magnolia Trace, an Acts Retirement-Life Community in Huntsville, Alabama, last summer. Among their personal belongings is a massive collection of civil war shells, which now covers a room in their cottage home from ceiling to floor.
With 112 different shells, ranging in size from three-quarters of a pound to almost 300 pounds, Larry's collection is quite a draw.
"Our collection is better than most museums have, and over the years, we've been asked to put on shows at different forts, museums and libraries," said Larry, a U.S. Coast Guard veteran.
His treasure trove is so impressive that it's grabbed the attention of renown civil war relic expert Rafael Eldege, of PBS' Antique Road Show.
"Rafael has a list of my collection,"  said Larry. "He calls me up every time he finds something that's not on my list. It's hard to find something I don't have."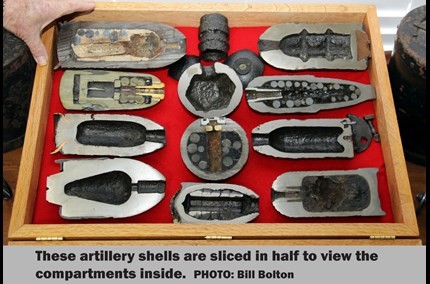 Larry began collecting relics 25 years ago after inheriting treasured family heirlooms from his grandparents. The relics included war diaries, letters, a gun and canteen from four relatives who fought in the Revolutionary and Civil Wars. As his interest grew, so did his vast collection.
"We lived in Kentucky, near Fort Donelson, and joined the Fort Donelson Civil War Round Table. That's when I bought my first artillery shell," said Larry, who joked about the expense of growing his collection. "It costs a lot of money and if you don't believe it, ask my wife."
What's the best part about living with a "museum" in the next room?
"It's something you don't have to put away or be afraid to touch. You don't have to be careful," Larry said. "During museum shows, children would come up and want to touch the shells, and their parents will say, 'no, no' but I would tell them, 'this is one collection they can touch… just don't pull it off on your foot.'"
Thankfully, a 300 pound mortar shell is hard to lift.