For the Love of Color: Frank Boni Keeps on Painting at Age 92
By Brian Donathan, Communications Manager


Art has been a significant part of Frank Boni's life for more than 80 years. As a young boy growing up in Canton, Ohio, Boni displayed enough proclivity for the subject that his mother enrolled him in a local art school at age 10.

"She thought I had some talent," the 92-year-old Gwynedd Estates resident says.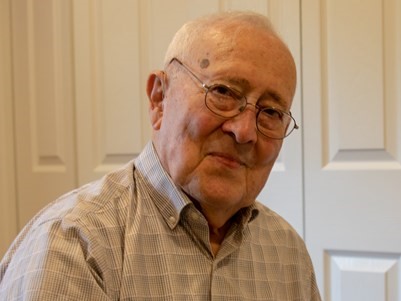 More than eight decades later, the retired mechanical engineer's apartment is adorned with fabulous examples of his works.

Like many artists, Boni has gone through subject phases; flowers, covered bridges, lighthouses and animal portraits, to name a few. But one phase he's particularly proud of began not long after his retirement in the early 1980s.

It was around that time when Boni's church, the First Presbyterian Church of Ambler, was celebrating its centennial, providing the perfect opportunity to put the 100-year-old house of worship on canvas.

"That was the beginning of my interest in painting all of Ambler's major buildings," says Boni.

Over the next 30-plus years, he completed more than a dozen paintings depicting buildings from the Philadelphia suburb. His 1988 painting of the Ambler Post Office was featured in The Ambler Gazette, complete with a photo of Boni presenting the framed work to the borough's then-mayor. The last in the series, The New Beginnings Church, was completed earlier this year.

All the original works have been donated to the building's inhabitants. Boni has never asked for a dime for any of his paintings, which he estimates number in the hundreds. He even pays out of pocket for a local printer to turn his paintings into greeting cards, which he also donates. He keeps a full-size print for himself.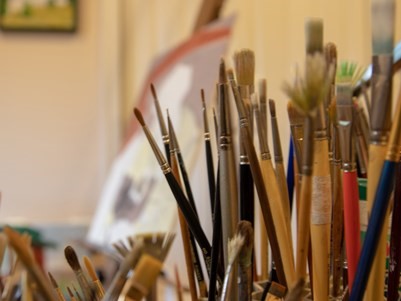 Boni's talent led to at least one job offer in retirement by a local architectural firm, but he declined. He picks up a brush "for the love of painting."

What does he love most about it? "Color," he says.

"Color is basic to life. For example, why do people like flowers? In large part I think it's due to the color. I'm just drawn to color. I think you're born with it."

Boni says he paints almost daily. He adds that moving to Gwynedd Estates nearly five years ago increased his passion to create.

"I'm probably painting more actively now than I ever did, in part due to the interest from the residents," he says.

He paints portraits of his neighbors' grandchildren and sometimes their pets, and still, he never accepts payment for his efforts.

"I just give them the painting and keep on painting," Boni says.

Hundreds of paintings over the years, but who's counting? In addition to some 40 works hanging throughout Boni's apartment, his three children and four step children have "more than a few" paintings displayed in their respective homes.

He's pleased that his daughter is in the process of cataloging his works. It's more than several decades worth of paintings. It's a lifetime of expression. It's a lifetime of loving life and loving color.

It's safe to say Boni's mother was right.