Letters to a WWII Veteran: An Inter-Generational Bond
By Brian Donathan, Acts Communications Manager
They are separated by nearly 40 years and by more than 2,100 miles, but an act of loving-kindness and the impact of the handwritten word has forged an inseparable bond between World War II veteran Woodie Benson and Pam Loosle.
Watching these two swap stories over coffee on a crisp October morning, one would never guess they were meeting face-to-face for the first time.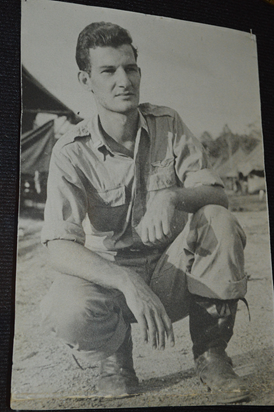 "It's like talking to an uncle you've always known," Pam, age 57, says. "A grandfather," Woodie, who is 96, adds with a laugh.
Their unique connection began on Veterans Day 2012, when Pam, who resides in Utah, wrote a simple, yet heartfelt "thank you" letter to an anonymous service member.
The handwritten note was sent to Operation Gratitude, an organization that ships care packages to veterans, first responders and other American heroes around the globe.
Seven months later, while on an Honor Flight trip to Washington, D.C., Woodie was handed one such care package that contained Pam's letter.
She had included her address and invited the recipient to write back, and upon returning to his home at Lima Estates in Media, Pennsylvania, Woodie did just that.
Pam remembers coming home from a vacation to find Woodie's letter buried in pile of junk mail and bills.
"I opened it up and Woodie had written, 'Well, I'm sorry to tell you but your letter went to an old World War II veteran.'
"It was that letter that started a pen pal friendship and we've been writing back and forth ever since."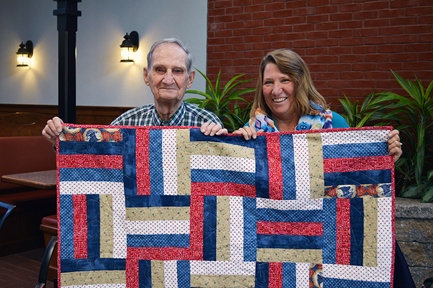 For nearly four years, Woodie and Pam have corresponded monthly. They have shared their interests as well as their struggles.
"It's a great friendship," Pam says. "It's just a great communication between the two of us."
As for Woodie, the correspondence has not only been a joy, but has also helped fill a void in his life following the passing of his wife, June, in 2011 after 65 years of marriage.
"I was very pleased to have somebody that would take the time to write to an old guy, an old veteran," he says. "It was nice to have a friend.
"Pam is a family gal. Her family is so important to her, and certainly mine is to me."
Both acknowledge that in today's digital world there is increasingly less handwritten communication between friends and loved ones.
"It's nice to get a letter," Woodie says. "It's something you look forward to."
Pam agrees, adding, "There's nothing like a physical letter or card that you can read, read again and hold."
To express how much their correspondence has meant to her, Pam traveled across the country to meet Woodie in person and to present him with a hand-stitched quilt she made as part of her work with Quilts of Valor.
"I can't thank him enough for his courage and great service that ever remind us of what our country's flag really stands for," she read from prepared remarks - handwritten, of course.