National Security Agency Honors Colonel Frank Herrelko
By Brian Donathan, Communications Manager
At 104 years old, retired U.S. Air Force Col. Frank Herrelko has seen and done more than most. On the surface, the career military man who served his country in World War II and went on to raise a family seems to fit the mold of what is often referred to as the "greatest generation." But it's what he did under the surface, so to speak, that truly sets him apart.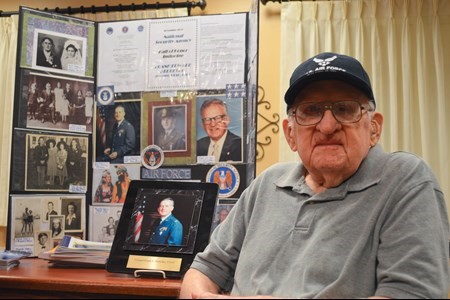 Earlier this month, the National Security Agency inducted Col. Herrelko into its prestigious Cryptologic Hall of Honor, putting him in a very exclusive group of former employees at the secretive agency.
"It's not every day you get a chance to shake hands with a legend," said NSA Historian David Hatch, who was among those on hand November 3 to honor Col. Herrelko at his Spring House Estates home.
For many years beginning in 1953, Col. Herrelko served as a "master of the defensive" efforts created and employed by the NSA to protect vital U.S. communications.
According to a citation read at his induction ceremony, Col. Herrelko's work established formal authorities for national communications security activities, many of which remained in place for more than two decades until advances in technology necessitated structural changes.
"When he departed the NSA for the final time, Col. Herrelko left behind a lasting legacy; a legacy that greatly influences current national security operations to this day," NSA Historian Mark Nixon read from the citation.
A plaque bearing his photo and name will now forever reside in the halls of the agency. Alongside him are 84 others, including Capt. Joseph Rochefort, who led a team that broke Imperial Japanese Navy codes that aided the U.S. in its victory in the Battle of Midway; Milton Zaslow, who provided information that predicted China's entry into the Korean War; and Howard Barlow, who provided security first for D-Day, and went on to essentially invent the field of protecting U.S. communications.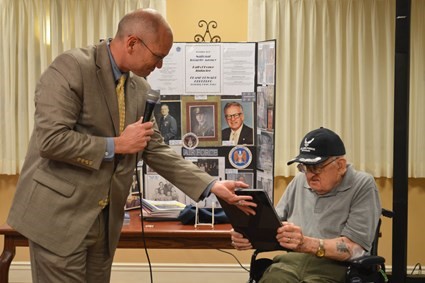 "The Hall of Honor is a highly selective, very rigorously thought out process and those who get in are not only the best, they're the best of the best and that includes Col. Herrelko," said Hatch.
Col. Herrelko's daughter, Kathy Easton, beamed with pride as John Tokar, Chief of the NSA's Center for Cryptologic History, unveiled the plaque and presented her father with the Admiral's Coin on behalf of NSA Director, Adm. Michael Rogers.
"Our family is so honored," she said. "We are so thankful to the NSA for coming and glad dad is here at 104 years old to enjoy it."
Mrs. Easton acknowledged that finding out her father was an NSA "legend" came as a bit of a shock.
"We had no idea what dad did all those years," she said. "It's a lifestyle where family members just have to accept that there are things you won't know but that the people are working for the good of the county."
In his best-selling book, "The Greatest Generation," Tom Brokaw wrote that the World War II generation's remarkable actions both in war time and in peace ultimately made the United States a better, safer place to live. Col. Frank Herrelko certainly fits the mold, and then some.
You can read Col. Frank Herrelko's Cryptologic Hall of Honor bio here.