I think it's fair to say that most of us have found ourselves overeating at times.  Sometimes we overeat because we're stressed, other times we may overeat because we don't want to waste food that we've bought at the grocery store or restaurant.  And then there are times when the food is just too delicious and we keep eating because it's so good. Eating well is hard to do. We should eat to be fueled and not eat to be frustrated after.  Here are a few tips to keep your eating on track (American Council on Exercise, ACE).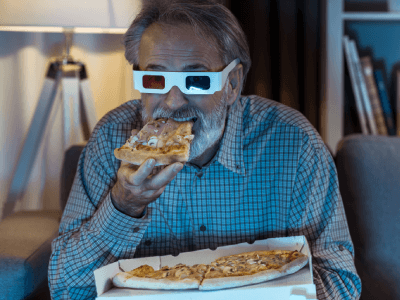 Eat slowly.  This is ridiculously hard to do in our fast society with an endless amount of snacks and fast eating foods at our fingertips all the time.  Try to set a timer for 20 minutes the next time you eat and see how long it takes you to feel full. Your body will send you cues to let you know when you're full.  Learn to recognize those cues when you eat.

Look to the future.  I often tell people when they don't want to exercise and they'd rather go home from work instead or do something else.  Think about how great you feel after you exercise and that usually helps to get you to your exercise session. When it comes to eating, ask yourself how you will feel after eating that piece of cake when you know that you're already full from dinner?  If you're going to feel too full, then don't eat the cake. It does take willpower though.
Think about your food while eating it.  I'm guilty of eating while trying to get office work done or while making dinner for the family when I should be eating with no distractions.  I'm a family man, and we're in a busy stage of life with teenagers in school activities after work. It's not realistic every evening to sit around the table and consider the food we eat.  But we do try to make an effort at least four nights out of the week to all sit down together and eat. It's very important. 
Control Your Stress.  Work, family issues, traffic, and endless news cycles can stress us out if we let it.  I've learned over the years to listen to the news, know what's going on and then turn it off!  I don't want it to stress me out especially when there's nothing I can do to change it. Stress can mess our body up causing high blood pressure, headaches, pains and it can cause some of us to overeat.  Our body creates the cortisol hormone when it's stressed out and cortisol increases our appetite. Try to reduce the amount of stress in your life and if you can't, then get rid of your stress another way besides overeating.  I like to go for a half-mile lap swim in the local indoor pool. I also like to go outside after work in the fresh air and sun. Properly exercising and not hurting yourself is a great way to relieve stress. 
Recognize what makes you overeat.  Here's to your excellent health.
Jonathan Souder is the Fitness Director at Manor House, an Acts Retirement-Life Community in Seaford, Delaware. This column appeared in the February 13, 2020 edition of the Seaford Star.