About this time every year, our fitness organizations talk about the fitness trends of the previous year.  In the past few years, I've read about wearable fitness technology, HIIT (high-intensity interval training), group training, bodyweight training, strength training, educated and certified fitness professionals, yoga, functional fitness, personal training, fitness programming for older adults, outdoor activities, mobility rollers, self-massage, and circuit training for example. 
Most people continually look for ways to lose weight and stay in shape.  In the 1940s, stretching exercises and jumping jacks became popular.  In the 1950s, the hula hoop became a great workout.  In the 1960s, the vibrating belt was a fitness trend that people used to try and vibrate away the unwanted fat.  In the 1970s, jazzercise became a popular way to exercise.  Jazzercise combines jazz dance with ballet, Pilates, yoga and kickboxing.  In the 1980s, aerobics was a spinoff of jazzercise and aerobics mixed in fitness movements with the dance movements.  In the 1990s, Tae Bo became the rage due to its high-intensity cardio workout style.  In the 2000s, Zumba continued the fitness dance craze.  In the 2010s, CrossFit was developed by a gymnast who wanted to get stronger in multiple sports and exercises.  It became popular then and it's still popular today. 
I recently read an article that talked about the benefits of exercise for older adults.  Fitness programming for older adults still remains a fitness trend.  Exercise science researchers published a few important older-adult exercise findings in 2019 that should intrigue all of us.  Last time I checked, we're all getting older.  And most of us want to actively age and live a healthy life.  Here are a few of the important findings (American Council on Exercise, ACE):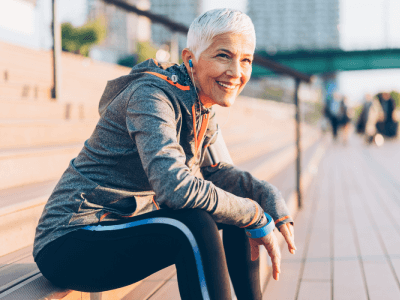 Aerobic exercise can help improve memory in older adults.  A study published in the Journal of Applied Physiology found that older adults that choose HIIT exercise workouts had up to 30% improvements in short-term memory.  The older adults in this study were between the ages of 60 and 88.  They exercised three times a week for 12 weeks.  Anybody up for a high-intensity workout? 

Exercise can improve the mental health of older adults.  A study published in the American Journal of Physiology-Cell Physiology found that exercising can reduce the risk of depression in older adults.  In this study, men over the age of 65 that performed high-intensity workouts designed to increase muscle mass boosted their mental health during the 12-week study.  It sounds like we need to up our intensity when we exercise.

Exercise can improve cognitive function in older adults.  Even a single exercise session can change the brain function in older adults according to a study from the University of Iowa.  The participants in this study showed memory improvements in both the short term and long term in just one exercise session.  Imagine the benefits of many exercise sessions?
I think one of the best fitness trends talked about in the last five years is that exercise is medicine (American College of Sports Medicine).  I personally think exercise is the best medicine if done wisely.  Enjoy your exercise routines in 2020 and keep at it!  Here's to your excellent health.
Jonathan Souder is the Fitness Director at Manor House, an Acts Retirement-Life Community in Seaford, Delaware. This column appeared in the January 30, 2020 edition of the Seaford Star.