When was the last time you had a massage from a licensed massage therapist (LMT)?  If you've had a massage before, maybe I can stimulate you to schedule another appointment.  If you've never had a massage, what are you waiting for?  Massage therapy can help to address problem conditions, improve your overall health, and improve your quality of life.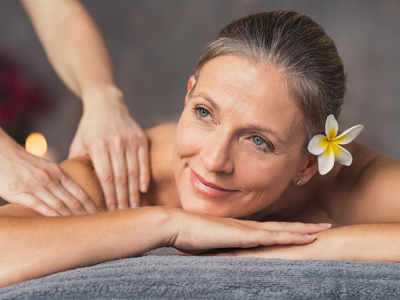 Getting a massage can also help you with healthy aging.  Some of the challenges we have as we age include: decreases in mobility and strength, slower nerve function, our body tissue is less elastic, our skin can become drier and thinner, we can lose bone mass, our senses can decrease, and our immune system is less efficient.  Chronic stress, inactivity, and inflammation speed up the aging process.  Living a healthy and fulfilled life helps to slow down the aging process.

A therapeutic massage can reduce the negative effects of stress that almost all of us deal with daily in our lives.  Massage can improve our sleep, help us feel more relaxed, reduce our anxiety, and reduce our muscle tension.  Massage therapy also helps to increase our joint range of motion and improve our flexibility.  Along with these physical benefits, it can also help with our social interaction especially in older adults that may be isolated or lonely.
If you've never had a massage, here's what to expect in a massage therapy session.  You can choose to be seated, or you can be lying down on a massage table.  Some massage tables can go up and down making it easier to get on and off if you have limitations with movement.  Massage session lengths can range from 15 minutes to 1.5 hours.  You can be partially or fully undressed under a drape or fully clothed.  The massage therapist will work on many areas of your body or they can focus on specific areas that concern you.  You can travel to their office for a massage and some massage therapists come to your home bringing their own portable massage table or chair.
The best way to choose a massage therapist is to consider their qualifications and style of massage.  Most states now require proper training before they license a massage therapist.  Some massage therapists have specialty training in geriatrics and reflexology, for example.  There are different types of massage therapy such as deep tissue, hot stone, Swedish massage, and some therapists may use various types of massage during a session.
Now that you know more about the health benefits for massage therapy, schedule one for yourself!  Start the new year with a gentle, relaxing massage!  Here's to your excellent health.
Jonathan Souder is the Fitness Director at Manor House, an Acts Retirement-Life Community in Seaford, Delaware. This column appeared in the January 2, 2020 edition of the Seaford Star.