Beaches, history, nature, small town charm, and city-style culture: you wouldn't think a state as small as Delaware could pack so much within its borders, but Delaware is full of surprises. If you want to retire to Delaware, you've got great instincts and an exciting future to look forward to. Here are 10 reasons why.
1. You're Still Close to the Action
As a hub on the eastern seaboard, Delaware is often overlooked, but it shouldn't be. Especially for northern Delaware, major cities in the Northeast are within a short drive or train trip.
Baltimore is 74 miles from Wilmington, DE
Philadelphia is 30 miles up the Delaware River
Hop on Amtrak's high-speed Acela train and you're in New York City's Penn Station in less than two hours
You're only 100 miles from Washington, D.C.  
2. You'll Find Peaceful Seaside Retreats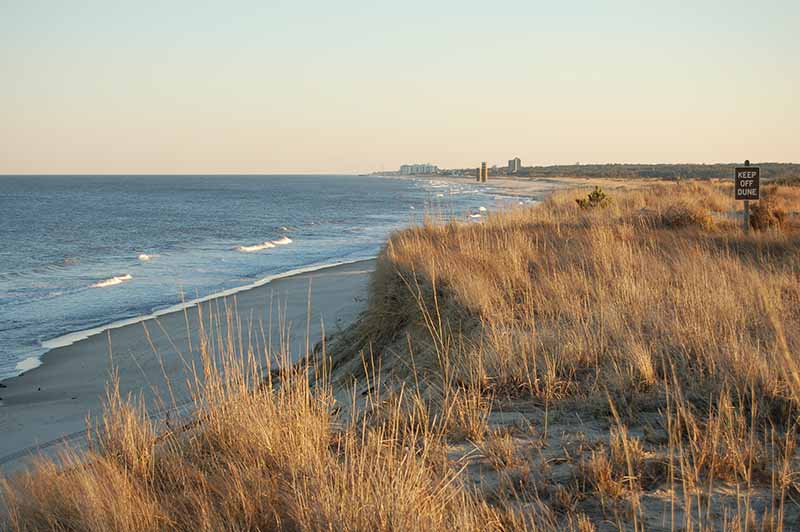 Delaware is close to everything, but it has its peaceful retreats as well. Take Rehoboth Beach for example, which features a stroller's paradise with its mile-long boardwalk and lovely scenery. Get away, recharge, and get some exercise, too.
While you're there, consider trying something new. Rehoboth Bay's calm waters make this the perfect place to take up paddle boarding or even try a windsurfing lesson if you're feeling particularly adventuresome.
3. There are Gorgeous Beaches
Speaking of peaceful seaside retreats, there are beaches here, too. Delaware has 28 miles of beaches, which is saying a lot for a state that measures only 35 miles across and 96 long.
The aforementioned Rehoboth Beach is famous, but the best beach is actually Bethany Beach. It boasts an adorable village center, which is lacking in both Rehoboth and nearby party-central Dewey Beach.
4. Delaware is a Tax-Friendly State for Retirees
Senior living in Delaware is easier on the wallet than most states. Delaware actually appears on Kiplinger's 10 Best States to Protect Your Retirement Nest Egg from Taxes. Here's why this state made the list:
If you retire to Delaware, state income taxes allow for an exclusion of $12,500 from retirement income such as IRA's, pensions, and 401(k) plans.
There's no sales tax (tax-free shopping!)
An additional $2,500 standard deduction is available for those over 65.
The gas tax is less than the national average.
5. There's Always Something to Do in Wilmington
You may retire to Delaware for the peaceful and charming communities you discover here, but you may find that easy access to Wilmington is important, too. That's because Wilmington offers big-city attractions like museums, theater, shopping, and more.
Awarded an A+ for its amenities by Area Vibes, Wilmington offers unlimited things to do and see. The arts scene is noteworthy, and the cultural mix makes for a vibrancy that permeates the whole city.
Then there's the vibrant riverfront area with its Riverwalk, which stretches from the Shipyard Shops to the Tubman-Garrett Riverfront Park. It's 1.3 miles of trees, shrubs, perennials, and of course the Delaware River.
6. Delaware Has Lots of History to Explore (Almost 400 Years' Worth!)
From 17th-century Dutch architecture to the early 1800's du Pont mansion called Winterthur, there's a lot of history in Delaware. Much of it has been carefully preserved, so house tours, gardens, and architecture tours abound.
There's also Lewes, a 1600's whaling settlement that today perseveres as a charming seaside gem. Find examples of English and Dutch architecture throughout.
7. Delaware is Full of Nature Preserves and Parks
So far we've mentioned cities and beaches, but Delaware is so much more, particularly when it comes to the great outdoors. Starting with Brandywine Creek State Park, there are plenty of ways to stay in touch with nature. Senior living in Delaware means always being close to nature because of places like:
Bombay Hook National Wildlife Refuge
Cape Henlopen State Park
Redden State Forest
Delaware Seashore State Park
Fenwick Island State Park
8. Delaware is Considered Somewhat of a Tax Haven
The banking laws in Delaware are friendly to corporations, which means companies from other states tend to be lured here for incorporation purposes.
Delaware is very eager to provide a favorable environment for businesses, which means good things for the state's economy. The state has done a very good job of creating that business-friendly environment, too. Almost half of all publicly-traded corporations in the country are incorporated in Delaware!
As a result, about $860 million was added to state coffers in 2011, just from absentee corporations' taxes and fees! That's approximately one-fourth of the state's entire budget. This provides Delaware the necessary funds to continually create and improve upon infrastructure, provide a safe and clean environment, and develop community programs, among other benefits.
9. If You Retire to Delaware, Your Home State is Host to the Clifford Brown Jazz Festival
Jazz festivals aren't exactly rare, but Delaware can claim host to the largest free jazz festival on the entire East Coast.
10. Fall is Full of Festivals in Delaware
Summertime is for music festivals in this state, but Fall is chock full of quirky, fun festivals as well. There's the "Punkin' Chunkin'" festival, where pumpkins are hurled through the air in a number of ways you've never thought of.
There's also the Sea Witch Weekend in Rehoboth Beach. Part Halloween, part food festival, it's a unique take on festival weekends that's part of what makes Delaware a unique and wonderful place to live.
Senior Living in Delaware
Considering a move to Delaware? See our Delaware senior living communities. You'll find each of our three communities offer access to the best that Delaware has to offer as well as a vibrant community and a secure, recognized and accredited place to call home.