By Adam Gilbert, Digital Marketing Intern & Student at Penn State University
If you've ever played the popular connection game Six Degrees of Separation, you understand that almost everything on earth is connected within six steps. It's safe to say that if I mentioned retirement communities and college in the same sentence, most people would believe all six steps are necessary to establish a connection. But even though it does not feel like these respected establishments would have any similarities, they both offer the same experience in several ways. Sure, moving into a retirement community is not a revival of the glory days, but it is certainly closer than you might believe. Here are 5 ways a retirement community is comparable to college, brought to you by a current Penn State student working within a retirement community organization.
1. The Search Process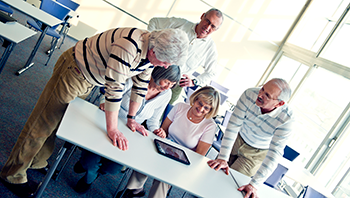 Today a large part of the college experience is found in the search process for the right college. You go on a handful of tours, make sure the schools house strong programs, and explore your eventually new environment to make sure it is exactly what you are looking for. Then, once students have it narrowed down, tuition, scholarship, friendship and proximity to home all become viable factors. You go through an extremely similar process when selecting a retirement community. It is extremely important to tour the communities and get a feel for the environment. Then, once the options are narrowed down, aspects like price, level of care and proximity to loved ones comes to the forefront. The processes may have different criteria, but most of the selection methods on which decisions are made are largely the same.
Moving In
Ahh, move-in day. The day where college freshmen all around the country pack their lives into plastic containers and haul them off to their new homes. The day where hundreds of thousands of empty dorms rooms are suddenly covered in posters and Christmas lights. The day where new college students awkwardly say goodbye to a life they have been living for 18 years. Moving into a retirement community may be less stressful, but just as life changing. You are presented with a new and mysterious place to live while leaving a house and lifestyle utilized for decades. That sounds awful, doesn't it? I thought the same thing when I moved into Penn State. How am I just supposed to leave this home life behind? Well, after two short months at school I realized that State College felt more like home than my original house. Retirement communities work the same way. Will it be different? Yes, it will absolutely be different, but it will be a good different. A kind of different that makes you never want to leave. The best part about retirement communities is, unlike college, you don't have a leave after four years.
The Community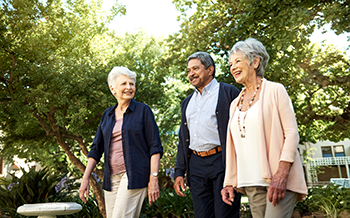 My absolute favorite part about college. Once all the move-in jitters are gone, the potentially awkward phase of meeting new people begins. You meet the people you'll be living and learning with for the first time, and over the course of about a week those strangers become best friends. They become better than best friends because they are also your neighbors. Retirement communities are extremely similar. The community atmosphere is the same. Neighbors become best friends and you get the opportunity to enjoy life with a multitude of people. Staying active socially is a crucial part of maintaining a fulfilling life in retirement. Retirement communities provide a social interaction similar to a college campus, without all the annoying mandatory college classes. On the other hand, the right retirement community often offers continuing education opportunities that you can choose at your preference!
Return of Clubs and Activities
College is a time of self-discovery. Your classes mimic what you want to do for the rest of your life and your extracurricular activities showcase your passions. There are so many opportunities to get involved on a college campus. I alone work in volunteering, campus ministry, and university sports. These activities are the highlight of my day and the founding point of my closest friends. The system is identical within retirement communities. The opportunity for activities is endless with a schedule to keep you busy all day everyday if that's what you want. If you're not into such an active schedule several clubs exist and can be created for any fascination. In college, you search for your passion, but in retirement you are free to pursue your passion fully without interruption.
Dine with Us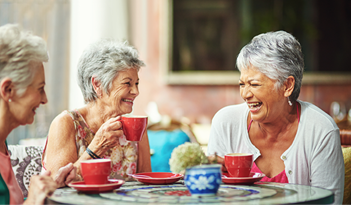 Dining halls. It's a love and hate relationship for most college students. The food is good … if the limited menu suits your fancy. However, having dinner provided for you is a great luxury because cooking can be a hassle at times. Retirement communities have dining areas as well, but they have so much more to offer when compared to a college campus. For starters, the menus have selection. If you don't like the main course, you can select the alternate. And if you don't like the alternate, you can even order a special substitute. There is something for everyone. Secondly, the quality of the food is better (and I speak from experience as a college student working for a retirement community). Finally, the community atmosphere remains. You get to dine with close friends every single day, and different people each day if you choose! Don't underestimate the importance of a social atmosphere. Retirement communities provide good food with tons of choices meant to be enjoyed with the of best of friends. I would take that over college any day.
College is often referred to as the greatest four years of your life. Even as a current college student, I've always been vehemently against that ideal. College is an incredible experience, but every part of life contains unique experiences that are all different kinds of incredible. Retirement is one of those times. You deserve to be gifted with a peace of mind and given the opportunity to pursue your passions within a community that loves and cares for you no matter your age. Acts Retirement-Life Communities offers that exact security. College is a great time but some say retirement can be even more fulfilling, especially when you spend it with Acts.