With its warm climate and southern charm, retiring in Georgia is becoming more and more popular among active seniors. Georgia is home to many towns and cities that cater to retirees and and also offer a robust history. World-class golf courses bring golf enthusiasts running, while Georgia's variety of terrain tends to attract lovers of mountains, lakes and valleys alike. Plus, mild winters and a below-average cost of living factor in to make it very attractive to retire in Georgia.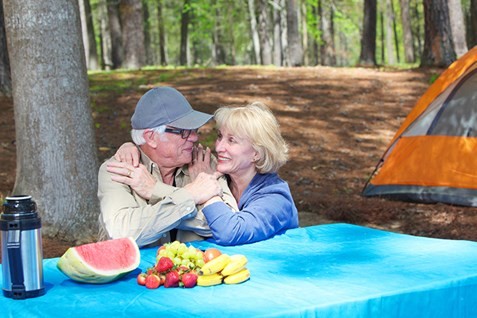 Retirees tend to take note of the low tax rates of the state, as well. According to Kiplinger.com, who listed Georgia as the fifth most-friendliest tax state in 2015, the Peach State's social security income is exempt from state taxes, and so is as much as $35,000 of most types of retirement income for people ages 62 to 64. For those 65 and older, the exemption is $65,000 per taxpayer, or $130,000 per couple. Kiplinger also notes that seniors may qualify for an additional property tax deduction and full-time Georgia residents receive a homestead exemption.
For those who wish to travel in retirement, Georgia is home to one of the largest international airports in the country, Hartsfield-Jackson Atlanta International Airport. Those looking to stay a little closer to home are within a short drive of beautiful beaches in both Georgia and South Carolina. Georgia is also rich in history, from Atlanta to Savannah to Athens, there are many places that escaped destruction during General William Sherman's march to sea during the Civil War. Other attractions include places along the Antebellum Trail, such as The Old Governor's Mansion in Milledgeville, the State Botanical Garden of Georgia in Athens and the Uncle Remus Museum at Turner Park in Eatonton.
Georgia boasts many retirement communities, though few offer the advantage of a life care plan. The security that a continuing care retirement community offers seniors for their future – both financially and through the assurance of health care – are virtually endless.
Thinking about making your move? Learn more about the advantages of retiring in a Georgia community.