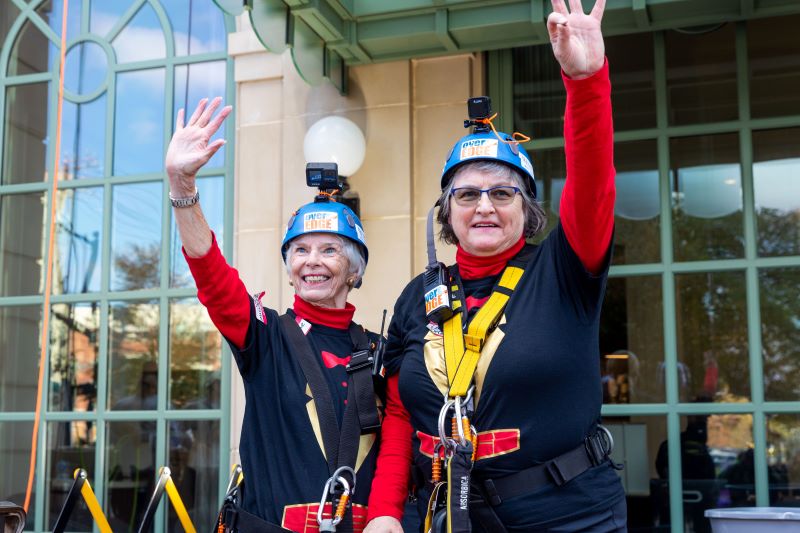 Katherine Jeter, an 84-year-old breast cancer survivor, rappelled more than 100 feet from the AC Hotel Spartanburg in November to raise money for the Cancer Association of Spartanburg & Cherokee Counties. The popular fundraiser, Over the Edge Upstate, raises awareness and funds to support local cancer patients in our community.
Katherine Jeter, who lives at Tryon Estates, an Acts Retirement-Life Community in Columbus, North Carolina, was the oldest participant to rappel. Katherine dared her friend, fellow Tryon Estates resident Lorraine DeCesare, to join her. Lorraine raised $4,280 for the Cancer Association, the highest amount raised by an individual.
Lorraine rappelled in celebration of her 65th birthday, and marked the milestone by maintaining a healthy, active lifestyle supported by her move to Tryon Estates. The retirement community's fitness director helped her train for this remarkable achievement.
"Lorraine is working very hard to meet this challenge," said Caroline Eller, the fitness director at Tryon Estates, "We're focused on her arm and core strength. Lorraine started with wall push-ups, then progressed to inverted rows and squats. She also swims laps three days a week to increase stamina."
Eller said Lorraine has been encouraged by the positive results of her training and new fitness regimen. "She's happy to have gained muscle and her clothing fits better," Eller said.
"Both Lorraine and Katherine are great examples of how our residents are changing misconceptions of our older population and show us what it means to actively age," she added. "I'm not too fond of heights and in awe of their bravery to sign up for this challenge."
Tryon Estates transported a busload of residents from the retirement community to support and cheer on this amazing pair.
"We love everything about Tryon Estates—certainly love the fitness training and the encouragement," said Katherine Jeter.
Jeter has many incredible achievements on her fitness journey that began when she was 66 years old after her breast cancer diagnosis. She lives by her motto, "I'm more than a survivor, I'm a thriver!"
After kicking cancer, she took up cycling and completed 70 miles on her 70th birthday raising $70,000 for her two favorite charities. Then she took her bike cross country—riding 3,100 miles from California to Florida; when she turned 75, she climbed Mount Kilimanjaro. Last summer, she was one of 32,000 cyclists riding the Five Boro Bike Tour, an opportunity to roll through all five boroughs of New York City.
This year she added rappelling to her resume. Last year, she signed up and raised money for the event, but was injured in a ski accident and could not participate. It was an emotional day for Katherine who dedicated the challenge to her granddaughter, also a cancer survivor, and her late son who passed away over the summer.
Katherine said, "I'm rappelling to support the Cancer Association of Spartanburg and Cherokee Counties in the wonderful patient and family care they continue to provide; to honor our granddaughter Madison, who is two years out of treatment for breast cancer; and to give thanks for the life of her fabulous dad, our son Stephen, who died too young on August 12."