Retirement is designated to be the one of the best times of our lives. Finally free of all that responsibility to work for a living, we get to enjoy the fruits of our labor. Hobbies, travel, spending time with family and friends — whatever your dreams have always been, retirement can make them a reality. That is, of course, as long as you pick the right spot to retire.
There are plenty of places that attract retirees for one reason or another. In most cases, you may not think a little town in New Jersey would be the ultimate retirement spot, which is why you'll be pleasantly surprised to learn why retiring to Moorestown, New Jersey is one of the best choices out there for anyone looking to enjoy all retired life has to offer!
So Many Reasons Why Do People Retire in Moorestown
Perhaps you already live in the area, or perhaps you're looking to relocate. Regardless, you'll soon understand why so many people (including Philadelphia professional athletes and local celebrities) flock to this charming town.
Located in the western part of the state near the Pennsylvania border, Moorestown is gorgeous, leafy-green suburbia, a community of just over 20,000 that has won awards for what a wonderful neighborhood it is. In fact, it was ranked number 1 by Money magazine as the best place to live in America. Who wouldn't want to retire to a place like that? Read on to learn more.
Location, Location, Location
You know another reason why people retire in Moorestown? Its location. As it's considered a suburb of Philadelphia, living in Moorestown provides you with the perfect opportunity to enjoy yourself no matter what you're looking for. Arts, culture, museums, entertainment? Philly is an international hub. Looking to go farther afield? Other Atlantic cities like New York City and Washington DC are a few hour's drive in either direction, making it easy to find anything you're looking for without a hassle.
At the same time, Moorestown is far enough away from the hustle and bustle of the metro Philadelphia area that you can and do have some serious peace and quiet. If you're looking for solitude (and, let's face it, everyone needs a little "me" time now and again), the largely residential Moorestown is filled with lush green spaces, even as you're just minutes way from a major artery like Interstate 295. Plus, if you ever want to go to the beach for some fun in the sun, did we mention its close proximity to the famous Jersey Shore, as well as casino-haven Atlantic City ?
The Affordable Choice
Compared to some of the surrounding locations, all of New Jersey makes for a pretty good choice for retirement if you're looking for affordable options, though we're partial to retiring in South Jersey due to its proximity to the beach. If you already live in the area, you won't be facing any increased cost of living, and if you're moving from nearby New York, you'll receive a dramatic decrease in expenses. Same goes for migrating from the other side of the country, like San Francisco or Los Angeles, and even if you're already on the east cost, in Boston, Washington, DC or the like. The bottom line is that Moorestown offers a #1 ranked lifestyle without an inflated cost.
Living in Peace and Comfort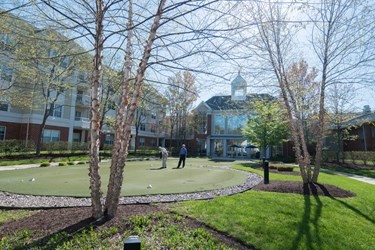 There's even more going for Moorestown than just location and affordability, however. Did you know, for example, that the town is almost completely dry? That's right — after Prohibition ended, Moorestown continued to ban the sale of alcohol within town limits. The ban was upheld for nearly a century! In fact, today, the only places that sell liquor are relegated to the Moorestown Mall. This makes the place pretty peaceful and quiet, the perfect refuge for anyone looking to escape the madness of the rat race.
On top of that, Moorestown has a fantastic climate for many retirees. You might think that being a Mid-Atlantic state would make the weather in New Jersey too chilly and wet, especially for anyone who's looking to retire someplace where they won't have to worry about the weather making their joints ache, but the truth is that Moorestown's average highs in both the winter and the summer are above that of the country. On top of that, you'll be lucky to get more than 23 feet of snow a year in the winter. That's smack dab in the middle at 24th in the nation for average snowfall! Plus, when you live in a Continuing Care Retirement Community like The Evergeens, snow is shoveled for you, so you don't have to worry about it anyway, while getting to enjoy all four spectacular seasons.
The Mid-Atlantic's Hidden Gem
There's something for everyone when it comes to Moorestown, New Jersey. Whether you're looking for excellent access to amenities such as arts and culture, a place that's peaceful and quiet and filled with green spaces but isn't too isolated, or a region that will provide you with mild temperatures and lots of opportunities to kick back and relax without spending a lot of money, there's a perfect reason to retire there. And that's just the tip of the iceberg!
So make a trip to Moorestown today and take in its picturesque, tree-lined residential streets, and enjoy a tour of The Evergreens. You'll be glad you did — and you might just be the next person who moves in!