Each year St. Andrews Estates honors a select group of veterans living at its Boca Raton community with beautiful Quilts of Valor, graciously made by resident volunteers. This year, residents and family members celebrated more than two dozen Vietnam War and Koran War veterans in an emotional tribute.
Family members cheered as their loved ones received the patriotic quilts on stage in a special quilt draping ceremony. Volunteers at St. Andrews Estates organized the event and made each quilt one of a kind, personalized for each veteran. Local TV news stations WPEC and WPBF covered the event.
Dr. Marilyn "Dee" Ray, a colonel in the U.S. Air Force Nurse Corps., was among the most decorated to receive a quilt for her service during the Vietnam War.
"I feel so privileged and honored to receive this quilt. I wasn't in the fighting force, I was in the healing force," she said.
"For veterans, especially those serving in combat, to receive a Quilt of Valor because they were so courageous," Ray said. "For them to be honored in this way, to have a quilt made especially for them, for us, I'm so thrilled."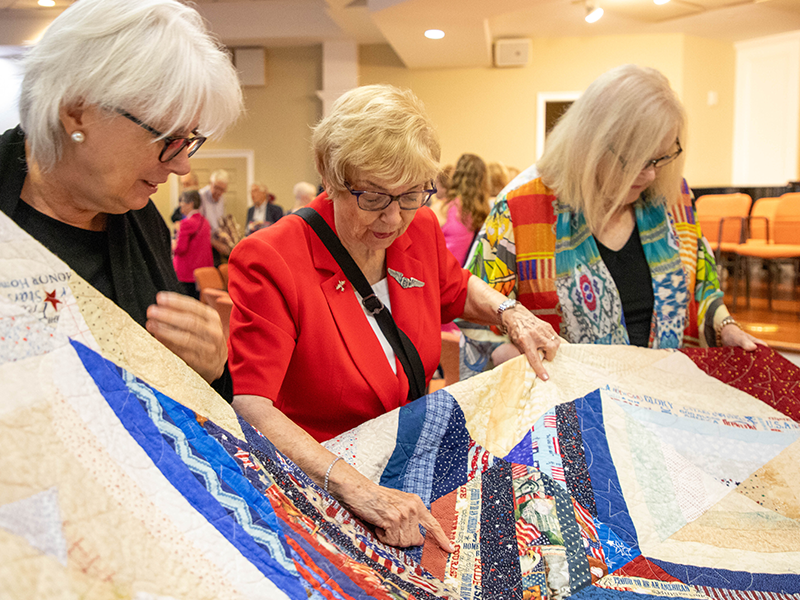 Ray brought wounded service members home from overseas in cargo planes that could carry up to 150 patients.
"It was a very contentious time in our country, there were a lot of protests against the Vietnam War. We had a great loss of life," she said.
Four Korean War veterans were also honored at the event.
"It was hard because I was only married three weeks before they sent me overseas," said Hank Bradicich, a new resident of St. Andrews Estates. Hank served in the Army and was 19 years old when he was drafted to fight in the Korean War.
Bradicich and his wife moved to the Boca Raton retirement community earlier this year. Many of their family members attended the event.
"It's a good move I made, living in this community," said Bradicich. "We didn't want the kids to worry about us. They're happy we are here too." The couple has three children, six grandchildren and seven great-grandchildren.
If you're interested in learning more about St. Andrews Estates and its independent living, assisted living and skilled care services, call our life care consultants at (561) 865-6960.