You Get All 23 Communities
One of the most popular benefits of living in an Acts retirement community is that you're not just joining one community. You're joining an extended family of 23 communities in nine states along the east coast, including Pennsylvania, Delaware, New Jersey, Maryland, North and South Carolina, Georgia, Alabama and Florida. That means that you can access all Acts communities throughout the United States.
As an Acts resident, you can also visit and stay at other Acts communities while on vacation or visiting family members and enjoy all the available Acts retirement community benefits. You'll be amazed at how quickly your network of Acts friends will grow!
The Acts Family of Communities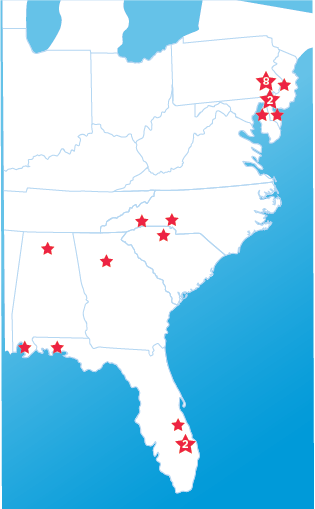 Brittany Pointe Estates, Lansdale, PA
Fort Washington Estates, Fort Washington, PA
Granite Farms Estates, Media, PA
Gwynedd Estates, Ambler, PA
Lima Estates, Media, PA
Normandy Farms Estates, Blue Bell, PA
Southampton Estates, Southampton, PA
Spring House Estates, Lower Gwynedd, PA
The Evergreens*, Moorestown, NJ
Cokesbury Village, Hockessin, DE
Country House, Greenville, DE
Manor House, Seaford, DE
Heron Point*, Chestertown, MD
Plantation Estates, Matthews, NC 
Tryon Estates, Columbus, NC
Park Pointe Village*, Rock Hill, SC
Lanier Village Estates, Gainesville, GA
Magnolia Trace, Huntsville, AL
Westminster Village*, Spanish Fort, AL
Azalea Trace, Pensacola, FL
Edgewater at Boca Pointe, Boca Raton, FL 
Indian River Estates, Vero Beach, FL
St. Andrew Estates, Boca Raton, FL
*An affiliate of Acts Retirement-Life Communities, Inc. and not a member of the Acts Obligated Group.