Acts Retirement Board of Directors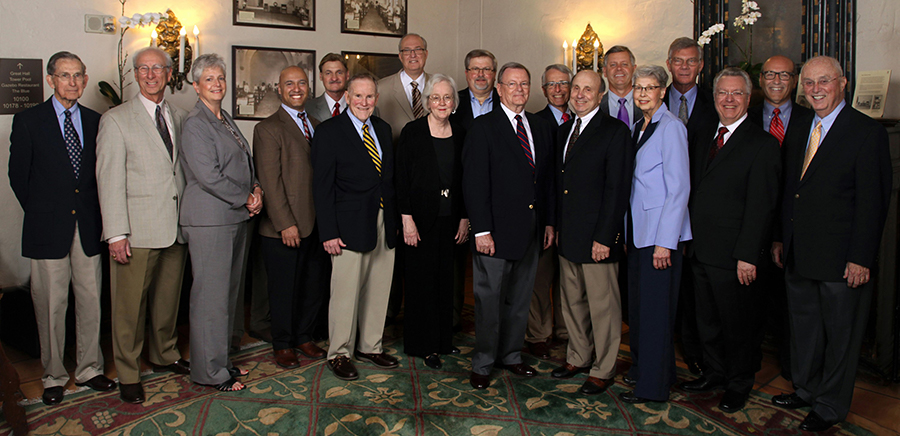 Above, the Acts Board of Directors and affiliate members is comprised of Jack Stenger, Elric C. Gerner, Susan Allmond, Dil Kulathum, George Gunn Jr., Mark Vanderbeck, Donna Jacobi, Marvin Mashner, Walter Paulus, John Esterhai Jr., Thomas Dunn III, Tom Clemens, Bonnie Pearson, Donald Davis, Bruce Detweiler, John Marcheschi, and Robert Evans. Not pictured: Annlouise Devenney and Adm. George M. Furlong Jr.
The Acts Board of Directors is comprised of dedicated individuals who embrace the company's mission, purpose, and values, sharing their expertise in many aspects of senior living. Each Acts board member serves as a volunteer without compensation.
Acts Board of Directors
Susan Allmond
Director of Strategic Planning & Alignment
Catholic Health Initiatives
Karen Christiansen
Assistant Treasurer, Acts Board of Directors
Executive Vice President & CFO, Acts Retirement-Life Communities
Tom Clemens
Officer
Clemens Family Corporation
H. Bruce Detweiler, CPA
Managing Director & President
Detweiler, Hershey & Associates
Donald L. Davis, CPA
Chair, Acts Board of Directors
Retired Shareholder, Asher & Company, Ltd.;
Financial Consultant
Annlouise Devenney 
Registered Nurse and Nurse Educator, Retired,
Resident, Fort Washington Estates
Thomas A. Dunn, III
Vice-Chair, Acts Board of Directors
Chief Operating Officer, Grace College and Seminary
John L. Esterhai, Jr., MD
Physician & Professor of Orthopedic Surgery,
University of Pennsylvania Medical Center
Robert B. Evans
Retired Managing Director, Evergreen Investments
& Senior Vice President, Wachovia Corp.
Adm. George M. Furlong, Jr.
United States Navy
Resident, Azalea Trace
Elric C. Gerner
Secretary, Acts Board of Directors
Retired Assistant Corporate Secretary;
Sunoco, Inc.; Consultant
Gerald Grant
Assistant Secretary, Acts Board of Directors
President & COO, Acts Retirement-Life Communities
George R. Gunn, Jr.
Retired, President & CEO, Acts Retirement-Life Communities, Inc.
Resident, Brittany Pointe Estates
Donna J. Jacobi, MD
Florida State University College of Medicine
Dil Kulathum
Managing Partner
Tru Capital Investments
John J. Marcheschi
Vice President, International Sales & Marketing,
Callanen International
Marvin Mashner, CPA
Retired, President & Chief Executive Officer
Acts Retirement-Life Communities
Merrill S. Moyer
Treasurer, Acts Board of Directors
Retired Chair, Univest Corporation of Pennsylvania
Bonnie Pearson
Resident, Magnolia Trace
J. Mark Vanderbeck
Chief Execeutive Officer
Acts Retirement-Life Communities
Acts Affiliate Board Members
Dr. Evelyn R.I. Huxster, M.D.
Resident, Heron Point of Chestertown
Walter Paulus
Resident, Park Pointe Village
Dr. W. Jackson Stenger, Ph.D.
Resident, Heron Point of Chestertown