Page 5 - Acts Annual Report 2020
P. 5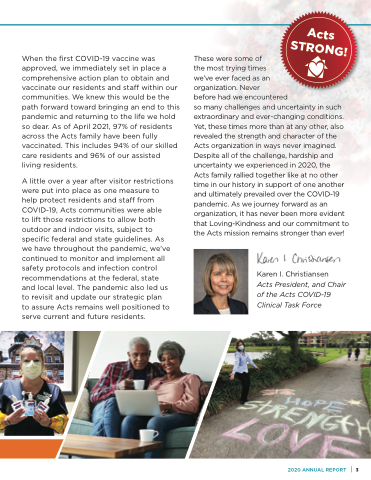 When the first COVID-19 vaccine was approved, we immediately set in place a comprehensive action plan to obtain and vaccinate our residents and staff within our communities. We knew this would be the path forward toward bringing an end to this pandemic and returning to the life we hold so dear. As of April 2021, 97% of residents across the Acts family have been fully vaccinated. This includes 94% of our skilled care residents and 96% of our assisted living residents.
A little over a year after visitor restrictions were put into place as one measure to help protect residents and staff from COVID-19, Acts communities were able
to lift those restrictions to allow both outdoor and indoor visits, subject to specific federal and state guidelines. As we have throughout the pandemic, we've continued to monitor and implement all safety protocols and infection control recommendations at the federal, state and local level. The pandemic also led us to revisit and update our strategic plan to assure Acts remains well positioned to serve current and future residents.
These were some of
the most trying times
we've ever faced as an
organization. Never
before had we encountered
so many challenges and uncertainty in such extraordinary and ever-changing conditions. Yet, these times more than at any other, also revealed the strength and character of the Acts organization in ways never imagined. Despite all of the challenge, hardship and uncertainty we experienced in 2020, the
Acts family rallied together like at no other time in our history in support of one another and ultimately prevailed over the COVID-19 pandemic. As we journey forward as an organization, it has never been more evident that Loving-Kindness and our commitment to the Acts mission remains stronger than ever!
Karen I. Christiansen
Acts President, and Chair of the Acts COVID-19 Clinical Task Force
           2020 ANNUAL REPORT
| 3
    Acts STRONG!