Page 8 - ActsAnnual Report 2018
P. 8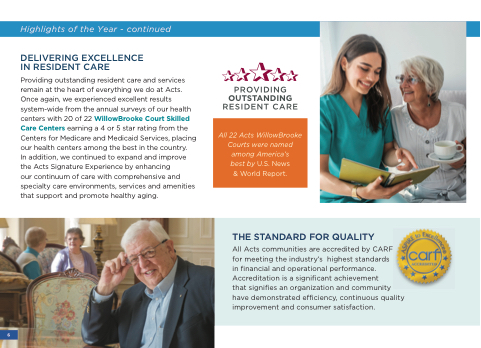 Highlights of the Year - continued
   THE STANDARD FOR QUALITY
All Acts communities are accredited by CARF for meeting the industry's highest standards
in financial and operational performance. Accreditation is a significant achievement
that signifies an organization and community have demonstrated efficiency, continuous quality improvement and consumer satisfaction.
 6
All 22 Acts WillowBrooke Courts were named among America's best by U.S. News
& World Report.
 DELIVERING EXCELLENCE IN RESIDENT CARE
PPPPP
PROVIDING
OUTSTANDING
RESIDENT CARE
Providing outstanding resident care and services remain at the heart of everything we do at Acts. Once again, we experienced excellent results system-wide from the annual surveys of our health centers with 20 of 22 WillowBrooke Court Skilled Care Centers earning a 4 or 5 star rating from the Centers for Medicare and Medicaid Services, placing our health centers among the best in the country.
In addition, we continued to expand and improve the Acts Signature Experience by enhancing
our continuum of care with comprehensive and specialty care environments, services and amenities that support and promote healthy aging.