Page 2 - Acts Annual Report 2020
P. 2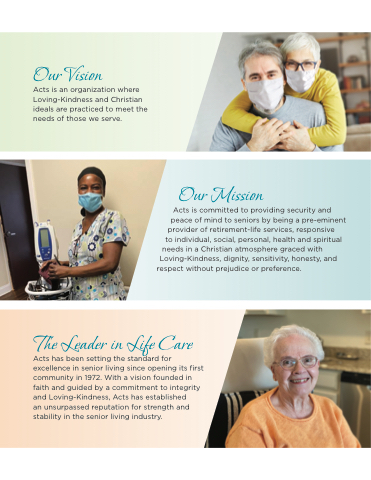 Our Vision
Acts is an organization where Loving-Kindness and Christian ideals are practiced to meet the needs of those we serve.
   Our Mission
Acts is committed to providing security and peace of mind to seniors by being a pre-eminent
provider of retirement-life services, responsive to individual, social, personal, health and spiritual
needs in a Christian atmosphere graced with Loving-Kindness, dignity, sensitivity, honesty, and
respect without prejudice or preference.
 The Leader in Life Care
Acts has been setting the standard for excellence in senior living since opening its first community in 1972. With a vision founded in faith and guided by a commitment to integrity and Loving-Kindness, Acts has established
an unsurpassed reputation for strength and stability in the senior living industry.