Page 8 - Acts Donor Report 2017
P. 8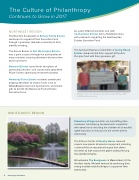 The Culture of Philanthropy
Continues to Grow in 2017
NORTHEAST REGION
The Resident Association at Brittany Pointe Estates continued its support of their Samaritan Fund through a generous donation presented at their monthly meeting.
The Annual Bazaar at Fort Washington Estates was a great success through the participation of many residents securing donations of prizes from local businesses.
Gwynedd Estates raised funds to replace all community benches, and successfully completed Phase I of this community enrichment project.
Normandy Farms Estates residents contributed ongoing donations to various funds such as WillowBrooke Court and Spiritual Life, and tribute gifts to benefit the Normandy Farms Estates Samaritan Fund.
As a joint effort of residents and staff, Southampton Estates held a Halloween Gala, with proceeds supporting the Southampton Estates Samaritan Fund.
The Spiritual Emphasis Committee at Spring House Estates demonstrated their support of the Acts Disciple Fund with their generous gift.
Mary Ann Kates, Alice Pillsbury, Joseph Deininger, Marjorie Miller and Mary Agnes Hershey
     MID-ATLANTIC REGION
   6 Acts Legacy Foundation
Cokesbury Village residents are benefitting from numerous landscaping improvements supported with donor funds including the addition of a beautiful lighted fountain in the pond at the center of their community.
The Fitness Center at Country House received several new pieces of exercise equipment including a state-of-the-art recumbent bicycle that allows residents to bike around the globe without leaving the comfort of home.
We welcome The Evergreens in Moorestown, NJ to the Acts family. We look forward to continuing their strong tradition of philanthropy in support of their community.