Page 10 - Acts Donor Report 2017
P. 10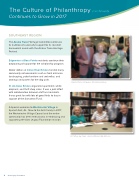 The Culture of Philanthropy (continued) Continues to Grow in 2017
SOUTHEAST REGION
The Azalea Trace Heritage Committee continues its tradition of successful support for its resident benevolent needs with the Azalea Trace Heritage Festival.
Edgewater at Boca Pointe residents continue their outpouring of support for the scholarship program.
Donor dollars at Indian River Estates funded many community enhancements such as front entrance landscaping, patio furniture and umbrellas, and awnings and pavers for the dog park.
St. Andrews Estates organized apartment, white elephant, and thrift shop sales. It was a joint effort with collaboration between staff and residents.
It was great fun with lots of good finds to buy in support of the Samaritan Fund.
A Special welcome to Westminster Village in Spanish Fort, AL. New to the Acts family in 2017, the Westminster Village Council and the entire community has been enthusiastic in embracing and supporting the Acts Legacy Foundation mission.
Ralph & Patricia Knowles, Mrs. Barbara Berry
      8 Acts Legacy Foundation
Kit Caffey, Joy Cross, Janelle Williams, Billy McLean.