Page 12 - ActsAnnual Report 2018
P. 12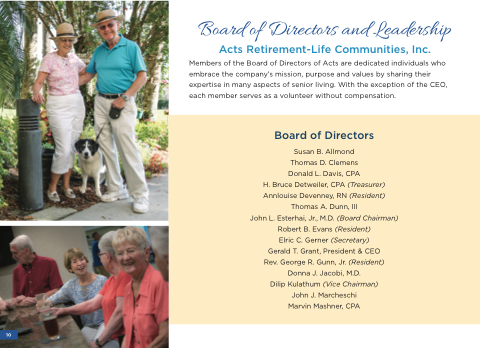 Board of Directors
Susan B. Allmond
Thomas D. Clemens
Donald L. Davis, CPA
H. Bruce Detweiler, CPA (Treasurer) Annlouise Devenney, RN (Resident) Thomas A. Dunn, III
John L. Esterhai, Jr., M.D. (Board Chairman) Robert B. Evans (Resident)
Elric C. Gerner (Secretary)
Gerald T. Grant, President & CEO
Rev. George R. Gunn, Jr. (Resident) Donna J. Jacobi, M.D.
Dilip Kulathum (Vice Chairman)
John J. Marcheschi
Marvin Mashner, CPA
 10
 Board of Directors and Leadership
Acts Retirement-Life Communities, Inc.
Members of the Board of Directors of Acts are dedicated individuals who embrace the company's mission, purpose and values by sharing their expertise in many aspects of senior living. With the exception of the CEO, each member serves as a volunteer without compensation.