Page 5 - Acts Spring 2019 Friends & Neighbors
P. 5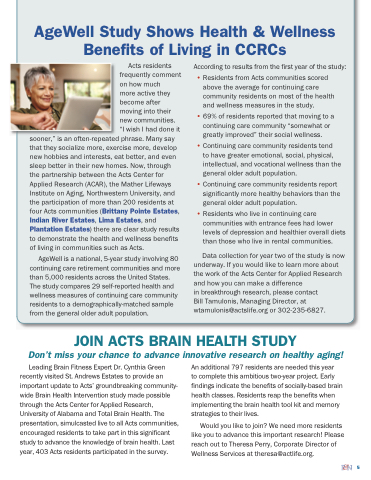 JOIN ACTS BRAIN HEALTH STUDY
Don't miss your chance to advance innovative research on healthy aging!
Leading Brain Fitness Expert Dr. Cynthia Green recently visited St. Andrews Estates to provide an important update to Acts' groundbreaking community- wide Brain Health Intervention study made possible through the Acts Center for Applied Research, University of Alabama and Total Brain Health. The presentation, simulcasted live to all Acts communities, encouraged residents to take part in this significant study to advance the knowledge of brain health. Last year, 403 Acts residents participated in the survey.
An additional 797 residents are needed this year
to complete this ambitious two-year project. Early findings indicate the benefits of socially-based brain health classes. Residents reap the benefits when implementing the brain health tool kit and memory strategies to their lives.
Would you like to join? We need more residents like you to advance this important research! Please reach out to Theresa Perry, Corporate Director of Wellness Services at theresa@actlife.org.
 5
  AgeWell Study Shows Health & Wellness Benefits of Living in CCRCs
Acts residents frequently comment on how much
more active they become after moving into their new communities. "I wish I had done it
sooner," is an often-repeated phrase. Many say that they socialize more, exercise more, develop new hobbies and interests, eat better, and even sleep better in their new homes. Now, through the partnership between the Acts Center for Applied Research (ACAR), the Mather Lifeways Institute on Aging, Northwestern University, and the participation of more than 200 residents at four Acts communities (Brittany Pointe Estates, Indian River Estates, Lima Estates, and Plantation Estates) there are clear study results to demonstrate the health and wellness benefits of living in communities such as Acts.
AgeWell is a national, 5-year study involving 80 continuing care retirement communities and more than 5,000 residents across the United States. The study compares 29 self-reported health and wellness measures of continuing care community residents to a demographically-matched sample from the general older adult population.
According to results from the first year of the study:
• Residents from Acts communities scored above the average for continuing care community residents on most of the health and wellness measures in the study.
• 69% of residents reported that moving to a continuing care community "somewhat or greatly improved" their social wellness.
• Continuing care community residents tend
to have greater emotional, social, physical, intellectual, and vocational wellness than the general older adult population.
• Continuing care community residents report significantly more healthy behaviors than the general older adult population.
• Residents who live in continuing care communities with entrance fees had lower levels of depression and healthier overall diets than those who live in rental communities.
Data collection for year two of the study is now underway. If you would like to learn more about the work of the Acts Center for Applied Research and how you can make a difference
in breakthrough research, please contact Bill Tamulonis, Managing Director, at wtamulonis@actslife.org or 302-235-6827.