Page 4 - Acts Spring 2019 Friends & Neighbors
P. 4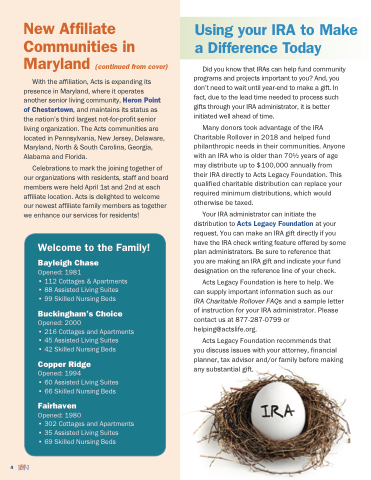 New Affiliate
Communities in
Maryland (continued from cover)
With the affiliation, Acts is expanding its presence in Maryland, where it operates another senior living community, Heron Point of Chestertown, and maintains its status as the nation's third largest not-for-profit senior living organization. The Acts communities are located in Pennsylvania, New Jersey, Delaware, Maryland, North & South Carolina, Georgia, Alabama and Florida.
Celebrations to mark the joining together of our organizations with residents, staff and board members were held April 1st and 2nd at each affiliate location. Acts is delighted to welcome our newest affiliate family members as together we enhance our services for residents!
Welcome to the Family!
Bayleigh Chase
Opened: 1981
• 112 Cottages & Apartments • 88 Assisted Living Suites
• 99 Skilled Nursing Beds
Buckingham's Choice
Opened: 2000
• 216 Cottages and Apartments • 45 Assisted Living Suites
• 42 Skilled Nursing Beds
Copper Ridge
Opened: 1994
• 60 Assisted Living Suites • 66 Skilled Nursing Beds
Fairhaven
Opened: 1980
• 302 Cottages and Apartments • 35 Assisted Living Suites
• 69 Skilled Nursing Beds
  4
 Using your IRA to Make a Difference Today
Did you know that IRAs can help fund community programs and projects important to you? And, you don't need to wait until year-end to make a gift. In fact, due to the lead time needed to process such gifts through your IRA administrator, it is better initiated well ahead of time.
Many donors took advantage of the IRA Charitable Rollover in 2018 and helped fund philanthropic needs in their communities. Anyone with an IRA who is older than 701⁄2 years of age may distribute up to $100,000 annually from their IRA directly to Acts Legacy Foundation. This qualified charitable distribution can replace your required minimum distributions, which would otherwise be taxed.
Your IRA administrator can initiate the distribution to Acts Legacy Foundation at your request. You can make an IRA gift directly if you have the IRA check writing feature offered by some plan administrators. Be sure to reference that
you are making an IRA gift and indicate your fund designation on the reference line of your check.
Acts Legacy Foundation is here to help. We can supply important information such as our IRA Charitable Rollover FAQs and a sample letter of instruction for your IRA administrator. Please contact us at 877-287-0799 or helping@actslife.org.
Acts Legacy Foundation recommends that you discuss issues with your attorney, financial planner, tax advisor and/or family before making any substantial gift.