Acts Golf Classics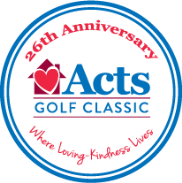 Join us and "tee-up" to support the Acts Samaritan Fund at the Annual Acts Golf Classics. For over 25 years, the Acts Golf Classics have been vital in helping raise proceeds for the Acts Samaritan Fund. The Acts Samaritan Fund offers confidential assistance to Acts residents, who through no fault of their own, have outlived their resources and require help to meet their financial obligations. If you cannot join us, please consider making a contribution. 
For online payment, click here.
Download the 2018 Acts Golf Brochure.
Florida Golf Classic
Thursday, December 6, 2018
#ActsGolf
PGA National Country Club, Palm Beach Gardens, FL
Contact: Kendra Rosenfeld
561-362-8377   kendra.rosenfeld@actslife.org
Thank you to our 70 Sponsors and over 200 golfers in 2017! A beautiful day at the Blue Bell Country Club! See our video of the day. With your support, we brought together a wonderful group of Residents, Staff, Board members and Business Partners to raise funds for the Acts Samaritan Fund. This fund helps relieve the financial burden, through direct fee subsidy, which can confront any Acts resident. On behalf of those residents benefiting from your participation, please accept our thanks.