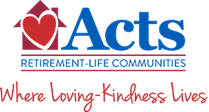 Acts Retirement-Life Communities is pleased to announce a new partnership with Montgomery County Community College, to provide Acts employees the opportunity to earn an associate of applied science degree in Management.
The goal of the partnership is to retain and develop Acts' most effective employees nationwide, and provide them with the opportunity to boost their leadership and management skills.
Please visit Montgomery County Community College's website for a full press release.